Loading
HANS
Head and Neck Restrain System
(frontal-head restraint)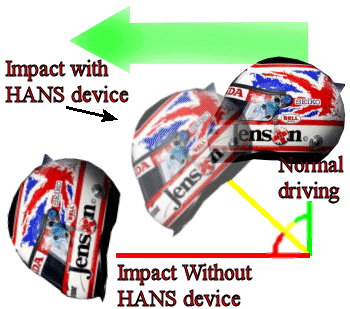 HANS was invented in early 1980's by two biomechanical experts, Jim Downing and Bob Hubard. They recognized that racers were receiving serious head and neck injuries in crashes.
They designed the HANS device to function so that when drivers torso is restrained with safety belts, the device restrains the head from swinging forward thus greatly reducing neck loads during the front impact and basal skull fracture injuries. Basal skull fracture is the lethal aspect of a head-on collision. They started selling HANS in 1990, before racing community recognized and understood much about biomechanics and significance of head and neck injuries.
The first HANS device was big and fit only limited number of drivers and cockpits. 1997 they started to develop current version, device was smaller and lighter, and fit almost all cockpits and racers. In both sled crash testing and racetracks, HANS has reduced injuries in accidents. Many racers have to recognize that HANS have saved his life.
Several of F1 drivers didn't want to use it, but by the end of the first proper test day of the 2003 World Championship most drivers have accepted the mandatory HANS Head and Neck Support system, although since then has likely saved several drivers in head-on impacts. But Felipe Massa became the first man ever to race with HANS in a Grand Prix at Monza 2002, and his crash in the 2004 Canadian Grand Prix when Brazilian hit the tires at 150km/h at the hairpin was probably the first time when HANS made a difference and potentially saved a driver's life.
There has been resistance from other drivers, among then Jacques Villeneuve, Juan Pablo Montoya and Nick Heidfeld.


Villeneuve was concerned about the way HANS might react in certain types of accident; Montoya and Heidfeld were uncomfortable as they both like the steer a car using not just their wrists but their shoulders, and the HANS device inhibited that. However, the teams are allowed to modify the original Hubbard-Downing design and several have done so.
2002 Heidfeld said: "I did one lap with the old version at Barcelona recently, and got a headache. But with the modified version I did a whole day at Imola without any problem. I still feel better without it, but at least I can use it now."
Christian Fittipaldi used HANS in his days racing for Newman-Haas in CART, and now in NASCAR, and says: "If you see a crash test with and without HANS, you don't need to be a rocket scientist to see that you ought to be wearing this thing," he said.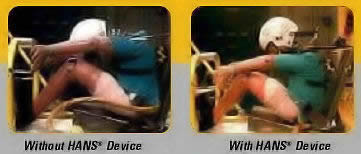 SCHROTH (one of two certified FIA supplyers) data, simulating a 50kmh 90-degree head-on collision and using a 75kg dummy, suggests a maximum deceleration of 30g. In crash without HANS, the shoulder harness and seat belt restrain driver's torso, but only the neck restrains head and helmet. HANS reduce whipping action of the head and keeping the drivers head from being pulled away from their upper body. With HANS, the forces stretching the neck in frontal collision are typically reduced by 80%. In frontal impact, the teeters restrain the heads forward movement, while torso and HANS device are restrained by shoulder harnesses. By restraining the head to move forward with torso in the crash, excessive head motion, neck forces and injuries are dramatically reduced.
HANS device must be build to exact standards imposed by FIA and SFI, and must contain one or both stickers of this organizations. For a device lauded by many in motorsport as a crucial part of a driver's kit, that the FIA has only approved two manufacturers goes some way to highlighting the complexities of a frontal-head restraint. That suggests significant exclusivity, and for a long time to buy a HANS device was an expensive luxury.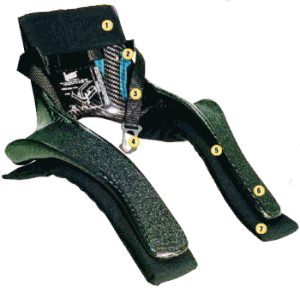 Main parts of HANS device:
1 – Head pad
2 – Collar
3 – Tether
4 – Post Catch
5 – Yoke
6 – Rubber
7 – Yoke padding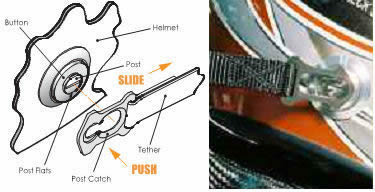 CHAPTER III - DRIVERS' EQUIPMENT
3. Head restraint
3.1 The wearing in an international event of any device intended to protect the head or neck and attached to the helmet is prohibited, unless the device has been homologated by the FIA and listed in
FIA Technical List n° 36.
When the device used is the HANS®, it must be worn only with a compatible helmet appearing in Technical List n° 29. Drivers are strongly recommended to use helmets with tether-anchorages fitted by the manufacturer as original equipment. These helmets are identified by a glossy silver holographic FIA label as illustrated in FIA Technical List n° 29 - Figure 1.
It is also strongly recommended to use homologated tethers which are identified by an FIA 8858-2002 label sewn on them.
For more details, "Guide for the Use of HANS® in International Motor Sport", published by the FIA Institute for Motor Sport Safety, can be found on www.fia.com, under the heading FIA Sport - Regulations - Drivers' Equipment.


3.2 Mandatory wearing of an FIA-approved head restraint - by
championships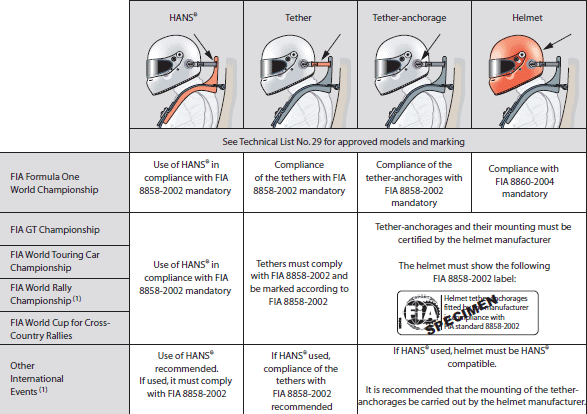 3.3. Future requirements concerning the obligatory use of head restraints
Wearing a head restraint approved by the FIA will be mandatory for all drivers and co-drivers in international events as follows:
- all FIA championships, trophies, cups and challenges: from 1 January 2008*;
- in all events entered on the FIA International Sporting Calendar: from 1 January 2009*.
* Exceptionally, the wearing of an FIA-approved head restraint system is:
a) mandatory for Thoroughbred Grand Prix and Formula 1 cars of period G and onwards where the construction of the vehicule makes it practical to do so; recommended for other historic cars;
b) mandatory, in off-road, for FIA European Championship events as follows:
- Division 1 (Rallycross): from 01.01.2009
- Division 1 (Autocross): from 01.01.2009
- Rallycross Cup: from 01.01.2009
- Division 1A (Rallycross): from 01.01.2010
- Division 2 (Rallycross): from 01.01.2010
- Division 3 (Autocross): from 01.01.2010;
c) not mandatory for the following categories of alternative energy vehicles: I, III, IIIA, IV, V Electric Karts, VII and VIII;
d) recommended for alternative energy vehicles in categories II, V Cars and VI with a technical passport issued before 01.01.2006;
e) not mandatory before 01.01.2009 for drivers and co-drivers competing in events of the FIA Regional Rally Championships but not registered to score points in them, although strongly
recommended;
f) not mandatory before 01.01.2009 for non-priority drivers and their co-drivers in events of the FIA World Rally Championship, but strongly recommended;
g) not mandatory before 01.01.2009 for drivers competing in events of the FIA Hill-Climb Championship, the FIA Hill- Climb Challenge or the FIA Hill-Climb Cup although strongly
recommended.
For other cars in which for technical reasons it is impracticable to fit the FIA approved head restraint, it will be possible to apply for a waiver to the FIA Safety Commission.