Loading
F1 drivers deceased behind racing car steering wheel between 1981 and 1985
Max Mosley, when President of the FIA:
"We're doing everything to reduce the probability of injury on the understanding it can never be zero."

Denny Hulme, Formula 1 driver:
"We didn't know any better in the old days. Now we've got the most incredibly hygenic circuits you have ever seen. Some people criticise them. They say it's terribly boring motor racing. Yes, compared to the old Nürburgring it is… but it's better than going to a funeral every Tuesday morning."
Drivers with their names marked in red died at an official Formula One Championship race.
On this list are only the drivers who competed on Indianapolis 500 plus at least one FIA World Championship race.
To know more about safety in Formula 1, development in safety after incidents and tragedies, check article about safety.
1982 - Gilles Villeneuve (CND)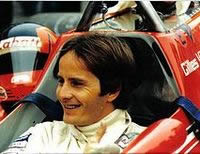 Joseph Gilles Henri Villeneuve, better known as Gilles Villeneuve, was a Canadian. An enthusiast of cars and fast driver from an early age. Offered a drive in Formula One with the McLaren team at the 1977 British Grand Prix. From 1978 to his death in 1982 drove for Ferrari. Villeneuve's arrival was one factor that prompted Ferrari driver Niki Lauda to quit the team at the 1977 Canadian Grand Prix.
The accident came less than two weeks after an intense argument with his team-mate, Didier Pironi, over Pironi's move to pass Villeneuve at the preceding San Marino Grand Prix.
On May 8, 1982, Villeneuve died after an accident during the final qualifying session for the Belgian Grand Prix at Zolder. At the time of the crash, Pironi had set a time 0.1s faster than Villeneuve for sixth place. Villeneuve was using his final set of qualifying tires, and many writers say that he was attempting to improve his time on his final lap. Some suggest that he was specifically aiming to beat Pironi. With eight minutes of the session left, Villeneuve came over the rise after the first chicane and caught Jochen Mass traveling much more slowly through the left-handed bend before the Terlamenbocht corner. Mass saw Villeneuve approaching at high speed and moved to the right to let him through on the racing line. At the same instant Villeneuve also moved right to pass the slower car. The Ferrari hit the back of Mass' car and was launched into the air at a speed estimated at 200-225 kph. It was airborne for over 100 m before nose-diving into the ground and disintegrating as it somersaulted along the edge of the track.
Villeneuve, still strapped to his seat, but without his helmet, was thrown a further 50 m from the wreckage into the catch fencing on the outside edge of the Terlamenbocht corner. Several drivers stopped and rushed to the scene. John Watson and Derek Warwick pulled Villeneuve, his face blue, from the catch fence.
The first doctor arrived within 35 seconds to find that Villeneuve was not breathing, although his pulse continued; he was intubated and ventilated before being transferred to the circuit medical centre and then by helicopter to University St Raphael Hospital where a fatal fracture of the neck was diagnosed. Villeneuve was kept alive on life support while his wife traveled to the hospital and the doctors consulted with specialists worldwide. He died at 9:12 that evening.
Grand Prix Starts 67
Grand Prix Wins 6
Pole Positions 2
Grand Prix Points 101
1982 - Riccardo Paletti (I)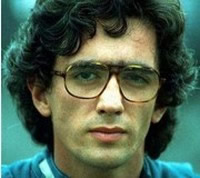 Although not having achieved much in the lower class racings, Paletti joined the uncompetitive F1 team Osella in 1982. When he qualified for the Canadian Grand Prix on Sunday June 13 1982, it was the first time Paletti would start successfully in a full line-up. At the start, the lights took an unusually long time to turn to green. During this time, Didier Pironi, who had the pole position, stalled his Ferrari. The lights switched to green and the other cars swerved across the track, trying to squeeze past Pironi. However, Paletti could not react in time and slammed into the rear of the Ferrari at 180km/h, catapulting it into the path of Geoff Lees.
Due to the force of the impact, Paletti sustained heavy chest injuries and was lying unconscious in his car, wedged against the steering wheel. Didier Pironi and Sid Watkins, the FIA's head doctor, were on the scene in a matter of seconds to stabilize and assist Paletti. As Watkins climbed over the wreckage of the Osella, the petrol that had leaked from the fully loaded car's ruptured fuel tank ignited, enveloping the car in a wall of fire. The heavy fire took a while to extinguish with Pironi spurring the marshals on to keep the flames away from Paletti, who was still in the Osella. When the fire was put out, the critically injured Paletti was without a pulse. It took the rescue workers 25 minutes to cut him out safely from his wrecked car, as the sparks caused by the cutting equipment were close to re-igniting the petrol on the track. It is said that Paletti suffered also a heavy intoxication from the exhausting foam used to contain the fire of his Osella.
Grand Prix Starts 2
Grand Prix Wins 0
Pole Positions 0
Grand Prix Points 0
1983 - Rolf Stommelen (D)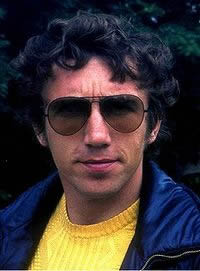 Rolf-Johann Stommelen was one of the best Sports Car Endurance race car drivers of the '60s and '70s. He participated in 63 Formula One World Championship Grands Prix, achieving one podium, and scored a total of 14 championship points. He also participated in several non-Championship Formula One races. He made his Formula One debut with Brabham and raced both sports cars and F1 throughout the 1970s. He raced with Brabham, Surtees, March, Lola, Hill, Arrows and Eifelland.
Rolf was killed in a vicious crash during an IMSA Camel GT event at Riverside International Raceway on 24 April 1983 after the rear wing of his Porsche 935 broke. With this, the racing world lost one of its most likable and talented drivers.
Grand Prix Starts 54
Grand Prix Wins 0
Pole Positions 0
Grand Prix Points 14
1985 - Manfred Winkelhock (D)

Manfred Winkelhock was the brother of Joachim Winkelhock and father of Markus Winkelhock, both also racing drivers.
He raced for Arrows, ATS and RAM F1 teams. Winkelhock's first attempt at qualifying for a Formula One Grand Prix race was in Italy in 1980 when he stood in for the injured Jochen Mass at Arrows.
He was killed in the summer same year when he crashed heavily at turn 2 at Mosport Park of Bowmanville near Toronto, Ontario, Canada, during the Budweiser 1000 km World Endurance Championship event, driving a Porsche 962C for Kremer Racing with co-driver Marc Surer.
Grand Prix Starts 56
Grand Prix Wins 0
Pole Positions 0

1985 - Stefan Bellof (D)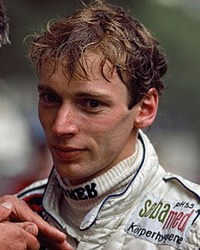 Stefan Bellof was a Formula One driver who raced for the Tyrrell team. He was also the Drivers Champion for the World Sports car Championship in 1984 driving for the factory Rothmans Porsche team.
Partnering Derek Bell for most of the season, he was noted for setting the fastest lap at the 1000km Nürburgring race held on 29 of May 1983, and was still leading more than 30 second to Jochen Mass when he crashed his Porsche 956 onto its roof trying to still improve his pole time. His pole time for that race of 6:11.13 is officially the fastest lap ever driven on the old 20km Nürburgring, and his fastest lap during the race of 6:25.91 to this day is still the official Nordschleife lap record for all cars. His 6:11.13 is still the fastests pole time and fastest time ever, without any chance soon to be broken.
Regarded as a likely future F1 World Champion, he was killed at the 1985 1000 km of Spa sports car race.
Driving for Brun Motorsport, his privately-entered Porsche 956 touched with Jacky Ickx's works 962C at Eau Rouge corner, with both cars catching fire and halting the race. Bellof was pronounced dead one hour later at the circuit medical center. This crash, coming only three weeks after the death of Bellof's compatriot Manfred Winkelhock in another Porsche, prompted the Porsche engineering department to hurry through the development of the better-protected 962 model.
Grand Prix Starts 20
Grand Prix Wins 0
Pole Positions 0
Grand Prix Points 4
Sorted by the year:
1950 - 1955, 10 drivers died
1956 - 1960, 20 drivers died
1961 - 1965, 6 drivers died
1966 - 1970, 18 drivers died
1971 - 1975, 10 drivers died
1976 - 1980, 3 drivers died
1981 - 1985, 5 drivers died
1986 - 1990, 2 drivers died
1991 - 1995, 3 drivers died
1996 - Today, 4 drivers died

To know more about safety in Formula 1, development in safety after incidents and tragedies, check article about safety.