Loading
F1 drivers deceased behind racing car steering wheel between 1950 and 1955
Max Mosley, when President of the FIA:
"We're doing everything to reduce the probability of injury on the understanding it can never be zero."

Denny Hulme, Formula 1 driver:
"We didn't know any better in the old days. Now we've got the most incredibly hygenic circuits you have ever seen. Some people criticise them. They say it's terribly boring motor racing. Yes, compared to the old Nürburgring it is… but it's better than going to a funeral every Tuesday morning."
Drivers with their names marked in red died at an official Formula One Championship race.
On this list are only the drivers who competed on Indianapolis 500 plus at least one FIA World Championship race.
To know more about safety in Formula 1, development in safety after incidents and tragedies, check article about safety.
1950 - Joe Fry (GB)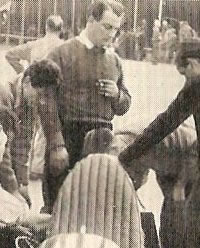 Joe Fry was a British racing driver and member of the Fry's Chocolate family.
Fry was killed at the wheel of the successful Shelsley Special "Freikaiserwagen", created by his cousin David Fry and Hugh Dunsterville, at the 1950 Blandford hillclimb, less than two months after driving a Maserati 4CL in the 1950 British F1 Grand Prix at Silverstone.
Grand Prix Starts 1
Grand Prix Wins 0
Pole Positions 0
Grand Prix Points 0
1950 - Raymond Sommer (F)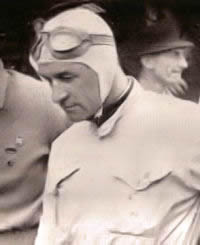 His father, Roger, broke the Wright Brothers record for the longest flight in 1909.
1932 Raymond won the 24 hours of Le Mans, despite having to drive over 20 hours solo after his teammate Luigi Chinetti retired ill. At the 1947 Turin Grand Prix in Valentino Park he won the first ever Grand Prix for Enzo Ferrari as an independent constructor.
The following season, Sommer switched from the Ferrari to Talbot-Lago. In 1950, the F1 World Championship began and Sommer drove in five Grand Prix races for Talbot and BRM, retiring in all but one.
In July 1950 he won the Aix les Bains Circuit du Lac Grand-Prix with a Ferrari 166. In September 1950, he entered the Haute-Garonne Grand Prix in Cadours, France where the steering failed on his 1100 cc Cooper and the car overturned at a corner. Sommer was instantly killed, his traditional canvas helmet proving to be no use at all.
Grand Prix Starts 5
Grand Prix Wins 0
Pole Positions 0
Grand Prix Points 3
1952 - Luigi Fagioli (I)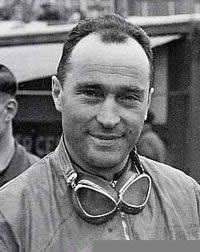 A young Fagioli spent several years participating in hillclimbing and sports car races before entering Grand Prix racing in 1926. By 1930, his racing success led to an opportunity to join the Maserati F1 team.
For 1952, Fagioli signed with Lancia to drive sports cars and took great personal delight by finishing in third place in the Mille Miglia ahead of arch rival Rudolf Caracciola. In his career he won just one Grand Prix, French GP 1951.
Shortly after, while practicing for a touring car race to be held as part of the Monaco Grand Prix, he had what appeared to be a minor crash but one where his internal injuries were such that he died in hospital three weeks later.
Grand Prix Starts 7
Grand Prix Wins 1
Pole Positions 0
Grand Prix Points 32
1953 - Charles de Tornaco (B)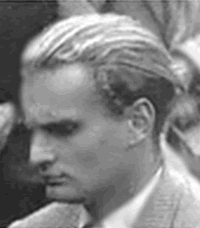 He participated in 4 Formula One World Championship Grands Prix, debuting on June 22, 1952. He scored no championship points. De Tornaco was the co-founder of Ecurie Belgique, which later became Ecurie Francorchamps, and most of his racing career was with this team, driving Ferraris.
In practice for the Modena Grand Prix in 1953, de Tornaco rolled his car and suffered serious head and neck injuries. There were no adequate medical facilities present, and he died on his way to hospital in a private saloon car.
Grand Prix Starts 2
Grand Prix Wins 0
Pole Positions 0
Grand Prix Points 0
1953 - Felice Bonetto (I)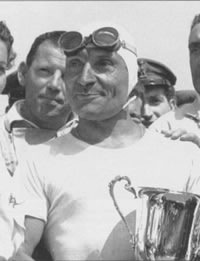 He raced in Formula One for the Maserati, Scuderia Milano and Alfa Romeo teams. He enjoyed a brief Formula One career, including a win in the non-Championship Portuguese Grand Prix in 1953, and some success in sports car racing (2nd at the 1949 Mille Miglia, winner of the 1952 Targa Florio) until his fatal accident while driving a Lancia on the Carrera Panamericana, that he was leading, when he left the road after jumping uneven pavement before colliding with a lamp-post. Ultimately, that race was won by Juan Manuel Fangio.
Grand Prix Starts 15
Grand Prix Wins 0
Pole Positions 0
Grand Prix Points 17,5
1954 - Guy Mairesse (F)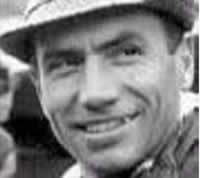 He participated in 3 Formula One World Championship Grands Prix, debuting on September 3, 1950. He scored no championship points.
Mairesse was killed in practice for the Coupe de Paris at Montlhéry in 1954 when he swerved to avoid another car and crashed into a concrete wall.
Grand Prix Starts 3
Grand Prix Wins 0
Pole Positions 0
Grand Prix Points 0
1954 - Onofre Marimón (RA)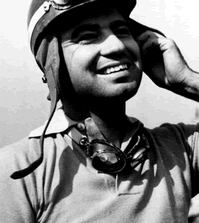 Onofre Agustín Marimón was born in Argentina. He participated in 11 Formula One World Championship Grands Prix, debuting on July 1, 1951. He achieved 2 podiums, and scored a total of 8.14 championship points.
Marimón was killed on July 31, 1954 during practice for the 1954 German Grand Prix at Nurburgring, becoming the first driver to be fatally injured at a World Championship Grand Prix. Marimón's Maserati left the race course at the Wehrseifen curve after he lost control attempting to improve his qualifying time. He died at the bottom of a steep incline. His best time was 21.3 seconds behind the record time of 9:50.1 set by Juan Manuel Fangio.
Grand Prix Starts 11
Grand Prix Wins 0
Pole Positions 0
Grand Prix Points 8.14
1954 - Alberto Ascari (I)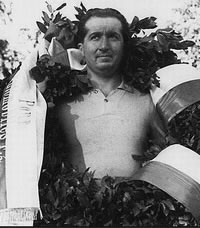 Alberto Ascari was born in Milan on July 13, 1918. His father Antonio was the greatest Italian driver of his day and frequently used to take his son with him to races in which he competed. A fortnight before Alberto's seventh birthday, Antonio Ascari was killed while leading the French Grand Prix at Montlehry.
His first motor race was the 1940 Mille Miglia, the car he drove was a Ferrari. In 1940 he stop racing and married a Milan girl and they had two children. The boy was named Antonio in memory of his grandfather and the girl was called Patrizia. Ascari was devoted to his family. Alberto resumed racing in 1947. He bought a 4CLT Maserati from the new owners, the Orsi family.
Enzo Ferrari, who had been a great friend and team mate of Alberto's father, had been taking a keen interest in Alberto's successes, and he signed both Ascari and Villoresi in 1949. That year Ascari had five victories plus another win at Buenos Aires in the Peron GP. In 1950 he had nine Ferrari victories and in 1951 six, despite Ferrari playing second fiddle to the aging 158/159 Alfa Romeos, but 1952 was his most successful season with 12. 1955, raced for Lancia in model D50. Although all 3 Lancias retired in the Argentinean GP of 16 January 1955, the D50s won two minor F1 races and with the powerful team of Italians, Ascari, Gigi Villoresi, and young Eugenio Castellotti, Lancia was well placed to take on and even beat the hitherto all-conquering Germans in Mercedes Benz W196 "Silver Arrows".
Four days after his incident in Monte Carlo when he finished in the sea with his Lancia D50, on May 26, 1955 at Monza, Ascari was on his feet again, watching the practicing for the Supercortemaggiore race. Just before going home to lunch with his wife he decided to try a few laps with the Sports Ferrari of his friend Castellotti. He was wearing a jacket and tie and had left his lucky blue helmet at home, so he borrowed Castellotti's white helmet and set off around Monza. As it emerged from a fast curve on the third lap the car unaccountably skidded, turned on its nose and somersaulted twice. Thrown out on the track, Ascari suffered multiple injuries and died a few minutes later. Three days after the funeral, Lancia officially suspended all racing activity, and in July they handed six Lancia D50 cars, engines, blueprints and spares over to Ferrari.
World Championships 2
Grand Prix Starts 32
Grand Prix Wins 13
Pole Positions 14
Grand Prix Points 70,5

1955 - Pierre Levegh (F)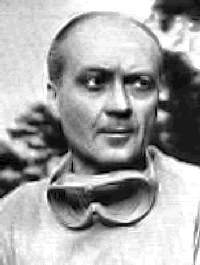 Pierre Eugene Alfred Bouillin was a French sportsman and racecar driver. He took the racing name Pierre Levegh in memory of his uncle, a pioneering driver who died in 1904.
Levegh is mainly remembered for a disaster that killed him and 83 spectators during the 1955 24 Hours of Le Mans automobile race.
Levegh was also a world-class ice hockey and tennis player. In motorsport he competed in Formula One for the Lago-Talbot team in 1950 and 1951, starting six races, retiring in three, and scoring no points.
Levegh died at the 24 Hours of Le Mans, killing 83 spectators. There is still no accepted figure for the dead and injured but there were at least 83 killed and about 120 injured. It was the worst accident in the history of Motorsport – and remains so to this day. He clipped the Austin-Healey of Lance Macklin that was forced to make an evasive move after Mike Hawthorn dove into the pits. After hitting an earth bank, the car flew through the air, disintegrating, parts flying into the crowd at head height.
Levegh was killed when he was thrown from the car and his skull crushed by the impact. Though Levegh was unable to save himself, he may have saved the life of five-time Formula One world champion Juan Manuel Fangio behind him. Fangio always maintained that a hand-signal from Levegh, a moment before he struck Macklin's car, was the deliberate warning that had saved his life.
Grand Prix Starts 6
Grand Prix Wins 0
Pole Positions 0
Grand Prix Points 0

1955 - Don Beauman (GB)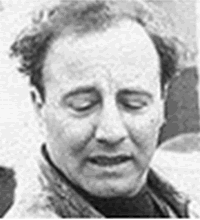 Beauman made his name in sports car racing, and took on Formula One in 1954 with a Connaught A-Type sponsored by wealthy privateer Sir Jeremy Boles.
The weekend before the British Grand Prix, he was killed when he crashed during the Leinster Trophy race.
Grand Prix Starts 1
Grand Prix Wins 0
Pole Positions 0
Grand Prix Points 0
Sorted by the year:
1950 - 1955, 10 drivers died
1956 - 1960, 20 drivers died
1961 - 1965, 6 drivers died
1966 - 1970, 18 drivers died
1971 - 1975, 10 drivers died
1976 - 1980, 3 drivers died
1981 - 1985, 5 drivers died
1986 - 1990, 2 drivers died
1991 - 1995, 3 drivers died
1996 - Today, 4 drivers died

To know more about safety in Formula 1, development in safety after incidents and tragedies, check article about safety.