Loading
Gurney Flap
Flap, from aerodynamic point of view is hinged or fixed device at the trailing edge of the wing, which can be, in majority of the cases, lowered to increase lift of the wing.
Gurney Flap was named after Dan Gurney who invented it. He was the driver and constructor of the Eagle F1 cars (the one in banner of my site) and Eagle Indy cars.
If you adopt this device on a single element wing, its effect is phenomenal.

This device has retained its value in a way that Chapman's minimalist rear suspension never did.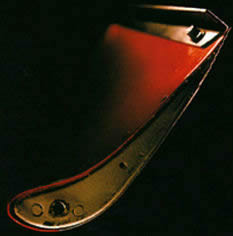 A Gurney Flap - often called simply a Gurney or a wickerbill in the US - is not very sophisticated piece of kit. It is a simple length of aluminum or carbon fiber right-angle rigidly bolted, riveted or glued to a wing's trailing edge. Usually, his use on the racing car wing is intended to keep a racing car on the road improving wing efficiency, although the Gurney Flap does also see some aircraft use.
On helicopter Apache AH-64 tail planes for example. Actually, Apache has a couple of G-flaps (upward, on the starboard wing; downward on the port wing). The G-flaps improve performance during high-powered climb. The device is also applied to other helicopters for stabilization purposes.
The McDonnell Douglas 300 seat large airliner MD-11 has this device on the full span of its main wing. The shape is not L shaped as on racecars but the reason for this modification is simply structural and it works the same, and they call it the "Gurney Flap". Since its invention the Gurney flap has been used to enhance the aerodynamics performance of subsonic and supercritical airfoils, high-lift devices and delta wings.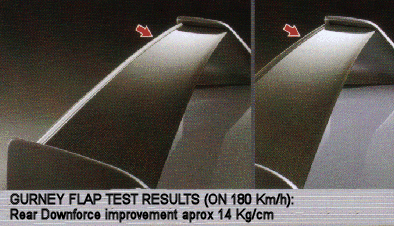 Crude as it looks, it serves essentially the same purpose as the complex flaps on an aircraft wing. It increases lift on aircraft or, in racing car case, downforce. Wind tunnel test showed 30 percent downforce increase with a very small drag penalty in some extreme cases. These results could not be reproduced in all cases, and in fact, in some conditions the G-flap does give rise to a drag penalty.
Birth of the gurney flap, in Dan Gurney's own words, was a classic example of necessity being the mother of invention. It happened in 1971 while his AAR (All American Racing) team was testing its new USAC car at Phoenix, prior to the season's first race there. The car was too slow and everyone knew it. Towards the end of the third and last day of testing, driver Bobby Unser challenged 'the boss' to come up with a solution, and Gurney suggested the flap. Dr. Bob Liebeck of McDonnell Douglas was participating in this test. You may have seen his name in many aerodynamic textbooks, since he is a leading, renowned person in the aerodynamic field. He told Gurney that he thought flap would not work at that time. Gurney has seen the success Richie Ginther had had experimenting with spoilers on Ferrari sport scars and wondered what would happen if a small spoiler was fitted along a wing's trailing edge.
In 45 minutes or so, the first Gurney Flap was fabricated and attached to the car's rear wing, and Unser went out again. Within a couple of laps it was clear he was circulating no faster than before and everyone in the pit assumed the flap was a failure. But when Unser came in he called Gurney over and quietly asked him whether anyone was around to spy on what they were doing. Once Gurney had confirmed they were alone, Unser told him the rear was now so well planted that the car was understeering badly, and that was the reason for poor lap times. All they needed to do was restore the aerodynamic balance by adding more front-end downforce and the car would be transformed.
For most of that first season, none of the other teams understand really what Gurney had achieved. Anyone who asked was told that the flap was a purely structural feature to strengthen the wing's trailing edge and prevent injuries on hands when pit crew push the car. Taken in by this, some teams tried fitting Gurneys on the underside of the wing with predictable results: they lost lap time or worse. Eventually word got around that the Flap was an Eagle secret weapon and everybody started using it, whether they understood its function or not. And, surprisingly, nobody, Gurney included, didn't understand it properly. As Carroll Smith observed in his book "Tune To Win", "It was a case of monkey see monkey do".
Gurney, meanwhile, get access to a McDonnell Douglas old wind tunnel in which he can test it. Measurements on the test wing showed that fitting the Gurney Flap affected pressure across the wing's entire upper and lower surface, increasing lift (or downforce) and reducing flow separation on the wing's suction side. Gurney placed the patenting of the device in the hands of McDonnell Douglas and, for some years after, AAR cars used to carry 'Pat Pend' scripts on their wings.
This shape is very contradictory because it runs in opposite direction to most aerodynamic devices which are smoothly shaped and sharply ended. Especially for wing profiles, it seems to destroy all carefully calculated sensitive shapes.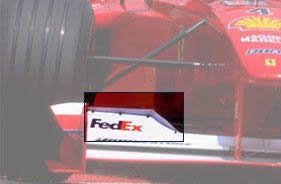 The device basically operates by increasing pressure on the pressure side of the wing, decreasing pressure on the suction side, and helping the boundary layer flow stay attached all the way to the trailing edge on the suction side of the airfoil. At the same time, a long wake downstream of the flap containing a pair of counter-rotating vortices can delay or eliminate the flow separation near the trailing edge on the upper surface (aircraft wing) or lower surface (racing car wing). Correspondingly, the total suction on the airfoil is increased.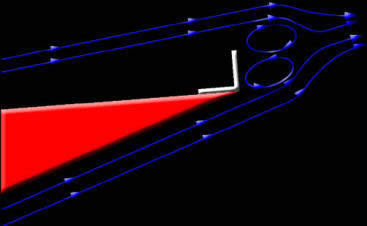 For the Gurney flap to be effective, it should be mounted at the trailing edge perpendicular to the chord line of airfoil or wing. The flap height must be of the order of local boundary layer thickness or typically 1% to 4% of the wing chord lengtht.

The first picture shows a racing car wing which generates downforce or negative lift as it moves through the air. The air has to accelerate to go around the lower side of the wing and loses pressure when it speeds up. Remember Bernoulli? The slower air on top is at a higher pressure and presses down on the wing surface. The force a wing produces depends on the airfoil shape, the area of the wing, and the square of its speed through the air.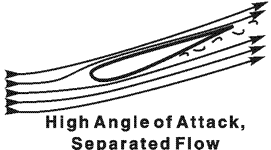 On the second picture is a racing car wing at a high angle of attack. At high angles of attack, air is unable to follow the contour of the lower wing surface and can detach (stall), lowering the efficiency (downforce) of the wing and adding drag.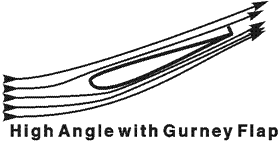 A small lip on the trailing edge, shown in the third picture, causes a lower pressure just behind it which sucks the lower flow back up to the wing surface. The Gurney flap causes some extra drag, but the wing can be run at a higher angle of attack and produces more downforce.
Designers can only use limited amount of the wing on a racecar because of rules limiting the number and dimensions of wings. Sidepods and tires get in the way and they just can't be left out. A designer has to get all the downforce possible out of the wing surfaces used. With Gurney flaps you can get more downforce from the allowable wings because you can run them at higher angles of attack.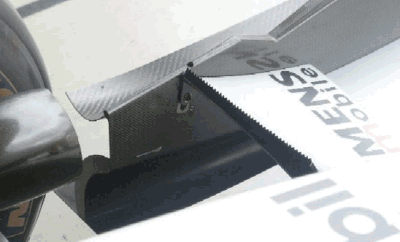 Although common in US single seat racing, rear wing adjustments during the race are not common in F1. However rear downforce can also be tuned via the gurney flap. By switching the gurney for a taller or wider strip, downforce can be increased. These strips are attached simply by adhesive tape, so are quickly removed. However fitting one is impractical because it does take time. Because of that, in the race teams are largely faced with the only option of removing a gurney and not adding one. Typically teams will add a more powerful gurney for a wet race, if the race dries then the teams will remove it. Removing a gurney is a relatively simple process, as the strip is taped to the wing only via its leading edge. The mechanic standing behind the wing pushes the gurney forwards and then rips its off at an angle, taking the tape with it.
---
The best American road racer of his generation and, of course, the only competitor that Jim Clark truly feared, Daniel Sexton Gurney was most at home in the 1.5-litre era of the early 1960's where his sympathy with the highly-fragile machinery counted for much.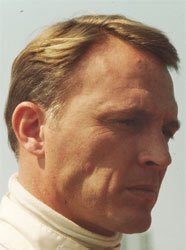 Despite winning races for Porsche and Brabham, his greatest triumph was victory in the 1967 Belgian Grand Prix in his own car, the Anglo-American Racers-run Eagle-Weslake, making him the only man to take maiden world championship race wins for three different constructors.
Daniel Sexton Gurney was born April 13, 1931, in Port Jefferson, Long Island, to John Gurney, a Metropolitan Opera star, and his wife Roma Sexton. Following high school, his family moved to Riverside, California. He graduated from Menlo Junior college and served two years with the United States Army, most of that time overseas in the Korean War. Young Dan quickly became caught up in the California hot rod culture. At age 19, he built and raced a car that went 222 km/h at the Bonneville Salt Flats. He then became an amateur drag racer and sports car racer.
Dan has had 3 very successful careers. He was, and still is a racing driver, racecar manufacturer and inventor and long term team owner at racing's highest levels since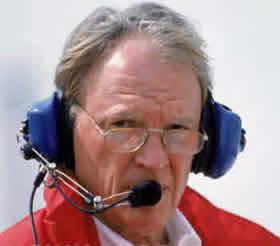 1958.
Gurney also won races in the Indy Car, NASCAR, Can-Am, and Trans-Am Series. Gurney is the first driver to win races in Formula One (1962), NASCAR (1963), and Indy Car (1967). The other two are Mario Andretti and Juan Pablo Montoya.
In 1967, after winning the 24 hours of Le Mans together with A.J. Foyt, he spontaneously sprayed champagne while celebrating on the podium. Apart from starting this tradition, he also was the first to put a simple extension on the upper end of the rear wing.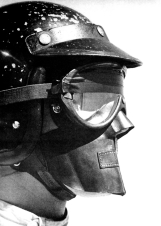 At the 1968 German Grand Prix he became the first driver ever to use a full face helmet in open-wheel Grand Prix racing.
Gurney was particularly noted for an exceptionally fluid driving style. On rare occasions, as when his car fell behind with minor mechanical troubles and he felt he had nothing to lose, he would abandon his classic technique and adopt a more aggressive (and riskier) style. This circumstance produced what many observers consider the finest driving performance of his career, when a punctured tire put him nearly two laps down halfway through the 1967 Rex Mays 300 Indycar race at Riverside, California. He produced an inspired effort, made up the deficit and won the race (with a dramatic last-lap pass of runnerup Bobby Unser).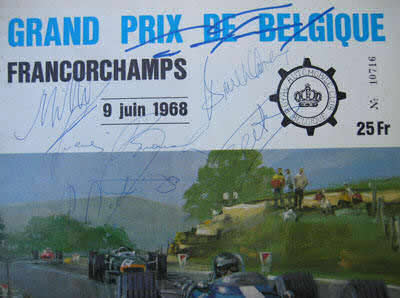 Dan Gurney win Belgian GP 1968. Poster signed by him and by: JOSEPH SIFFERT, LUCIEN BIANCHI, BRUCE McLAREN, PEDRO RODRIGUEZ, JEAN-PIERRE BELTOISE and artist MICHAEL TURNER

His racing career, which started with a Triumph TR2 in 1955, spanned 15 years. During that time he became the top road racing star in America, as well as one of the most popular F1 Grand Prix drivers ever. Gurney etched himself a place in racing lore with exciting battles against drivers like Stirling Moss, Jimmy Clark, John Surtees, Jack Brabham, Graham Hill, Phil Hill and many others on the classic road courses of the Nuerburgring, the Targa Florio and Monte Carlo. He remains the only American who win a Formula 1 Grand Prix with car of his own construction.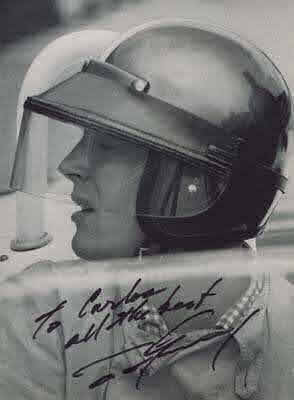 Gurney began racing in West Coast sports car events before competing at Le Mans for the first time in 1958. By 1960 he had gained a place in the works Ferrari F1 team, but it was not until 1962 that he won his first F1 race for Porsche in the French Grand Prix. Between 1963 and 65, Gurney drove for Jack Brabham's F1 team, consistently proving himself a match for Clark and his Lotus whilst repeatedly let down due to trifling mechanical failures. With the advent of the 3-liter F1 regulations in 1966 he started his own team, Anglo American Racers, and won the 1967 Belgian Grand Prix at the wheel of the Eagle-Weslake. Underlining his versatility, Gurney also won Le Mans in 1967, sharing his 7-liter Ford with Indy 500 winner A.J. Foyt.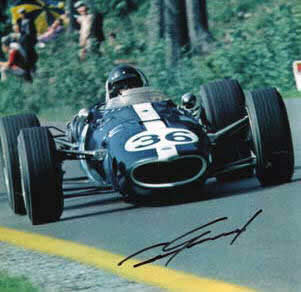 At June 18, 1967, Gurney took a historic victory in the Belgian Grand Prix. Starting in the middle of the first row, Gurney initially followed Jim Clark's Lotus and the BRM of Jackie Stewart. A muffed start left Gurney deep in the field at the end of the first lap. Clark encountered problems on Lap 12 that dropped him down to ninth position. Having moved up to second spot, Gurney set the fastest lap of the race on Lap 19. Two laps later, he and his Eagle took the lead and came home over a minute ahead of Stewart.
This win came just a week after his surprise victory with A.J. Foyt at 24 hours of Le Mans, where Gurney spontaneously began the now-familiar winner's tradition of spraying champagne from the podium to celebrate the unexpected win against the Ferraris and the other Ford GT40 teams. Gurney said later that he took great satisfaction in proving wrong the critics (including some members of the Ford team) who predicted the two great drivers, normally rivals, would break their car in an effort to show each other up.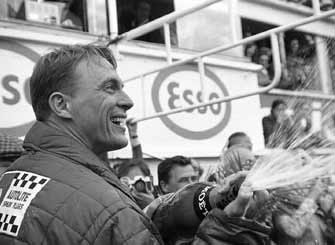 LE MANS CHAMPAGNE STORY
From "All American Racers" web site
"I was so stoked that when they handed me the Magnum of MOËT ET CHANDON , I shook the bottle and began spraying at the photographers, drivers, Henry Ford II, Carroll Shelby and their wives. It was a very special moment at the time, I was not aware that I had started a tradition that continues in winner's circles all over the world to this day" - Dan Gurney
What happend to the bottle that started a tradition? Among the friends on the podium was distinguished LIFE photographer Flip Schulke, who managed to avoid being sprayed because Dan had pulled him up on stage before he aimed the bottle at those in front. "I took one photo and then ducked" Schulke says. "When it was over, Gurney handed me the bottle and autographed it". Schulke kept it for a decade and another decade and another. All those years it had reposed as a lamp base in his house in Florida. "Then a few years ago, I went back to visit him in Southern California and gave it back" says Schulke. "After all, he is the one who should have it".
A member of various Motorsports Halls of Fame, Gurney has been a pioneer of racing innovations. In 1971 he developed the Gurney Flap (wickerbill), an invention which has been adopted by the automobile racing and aviation industries throughout the world. He was the first race car driver to introduce a full-face helmet to Indy Car racing as well as Grand Prix racing. He was instrumental in launching the rear-engine revolution in Indianapolis in 1963.
One of the original founders of Championship Auto Racing Teams (CART), Gurney came up with the name and acronym. He was instrumental in bringing Monte Carlo-type street car racing to the United States and became a co-founder of the Long Beach Grand Prix in 1974 where he continued to serve on its Board of Directors for 24 years.
Gurney is no stranger to Hollywood either. A member of the Screen Actors Guild since 1965, Gurney has appeared in such motor racing films as 'Winning', 'A Man and a Woman', and 'Grand Prix'. His win of the 'Cannonball Run' across the United States in 1971 inspired his friend and co-pilot Brock Yates to write the screenplay for the 'Cannonball Run' movie. His long term relationship with Toyota started in 1982 when Dan was hired by the company to do TV commercials for the introduction of the Supra. This relationship has resulted in three Drivers and three Manufacturers championships for the auto maker.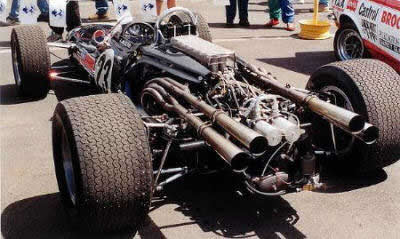 An avid reader of political and military history, Gurney loves old movies, opera, cigars, traveling to historical places and riding motorcycles. Gurney and his wife, Evi, who was a junior executive in the public relations/press department of Porsche in Stuttgart and a well-known motorsports journalist in Germany during the sixties, have two sons. Dan has four grown children from his first marriage and five grandchildren. They live in Newport Beach, California.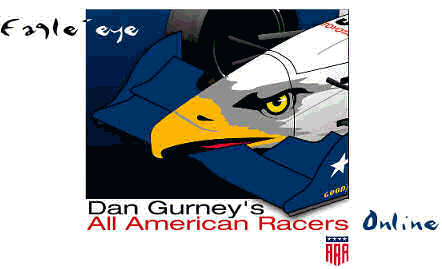 Dan Gurney died at noon January 14, 2018. He passed away due to complications from pneumonia. He is survived by his second wife, Evi Butz, a former Porsche public relations executive, whom he married in 1969, and by their two sons, Justin and Alex; by three sons, Daniel Jr, John and James, and a daughter, Lyndee, from his first marriage, to Arleo Bodie; and by eight grandchildren. (Obituary from Autoweek)